PRODUCT DETAILS
The Speick Thermal Sensitiv products are a perfectly balanced and complementary skin care line for sensitive skin that requires extra care.
Speick Thermal Sensitiv Day Cream is a delicately fragrant cream that refines the complexion, leaves the skin feeling fresh all day long, and has a matte finish.  Containing the combination of pure thermal water (high in silicic acid content) and concentrated Algae extracts, this soft textured cream helps restore firmness and youthful elasticity to the skin, provide it with proteins, minerals, and vitamins that energize the skin cells, and helps regulate the skin balance.  It also has an active ingredient composition that includes moisturizing organic Aloe Vera gel, nourishing organic Shea Butter, protective organic Camellia oil, and preventative natural sun protection.  And it has that unique light and soft Speick Thermal fragrance from the high alpine Speick plant.
This is a Vegan product, and like all Speick product, this cream is a BDIH-certified natural cosmetic.  It is 100% free of artificial colors and preservatives, and contains no mineral oil-based ingredients, silicones and parabens.  Gluten- and lactose-free.  Dermatologically and allergologically tested.
about Speick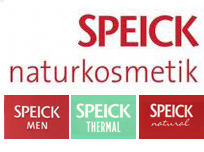 Speick Natural Cosmetics from Walter Rau Gmbh of Germany are the only products in the world to contain the extract of the Speick plant, which has been prized for centuries for its unique calming and harmonizing properties. As developers and manufacturers of one of the very first natural product lines, this company was producing natural cosmetics long before public awareness created a booming market for natural skin care products.
See All Products from Speick