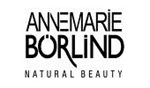 Annemarie Börlind of Germany products are recognized internationally as among the world's most innovative herbal skin care preparations. Tailored to the needs of each individual's skin, they are made from botanical ingredients from around the world which have been scientifically proven to support and improve the skin's function.
Driven by the company philosophy of "natural beauty in harmony with nature", all products are made with the highest quality of natural substances and are subject to cruelty-free testing by independent dermatological institutes to prove skin-compatibility and effectiveness.
These products do not contain genetically engineered ingredients nor any synthetic ingredients.
Börlind products use first pressings of botanical oils, organic essential oils and herbal extracts that are combined with active ingredients from the sea and potent naturally occurring vitamins and anti-oxidants. Water used comes from the company's dedicated spring in the spa region of Germany, and is rich in minerals such as potassium, magnesium and calcium which are known for their skin supporting properties.
Manufacturing is carefully controlled to guarantee retention of the valuable botanical nutrients and to ensure that all active substances are preserved in accordance with holistic principles for maximum effectiveness.